The end of another month of semi lockdown but at least we've been able to get out with the camera a bit. A lot of photographers (me included) slip into this barren spell of landscape photography as it means getting up at silly o'clock to get sunrise or finding some other way of dealing with the masses of green & harsh light. 
 A couple of years ago when I changed camera bodies I sent my Canon 6D away to Advanced Camera Services (ACS) Norfolk who convert cameras to shoot infrared light.
I had seen a number of black and white infrared images and was both fascinated by the genre and intrigued to see what I could do with one.
There are a number of ways of producing infrared images. One I have descibed is getting your camera converted by a company such as ACS, infrared wavelengths are measured in 'nm' and there are several conversions available. 
590nm Golden glow, allows orange and red visible light and IR light on to the sensor
665nm – This allows red visible light and IR light on to the sensor
720nm – False Colour, allows only IR light on to the sensor
780mn – False Colour, though muted. IR Only
830nm – Monochrome Only, allows only IR light on the sensor.
A camera conversion will cost anything from about £250.
Another method is to buy a filter such as the Hoya R72 infrared filter. This is a screw on filter which blocks visible light up to 720nm. They cost form £40 to £120 depending on the size and make. The main issues with these filters are because of the amount of light they block to make an image you have to use long exposures, typically 30 sec or more which can present another set of issues depending on the subject you are photographing.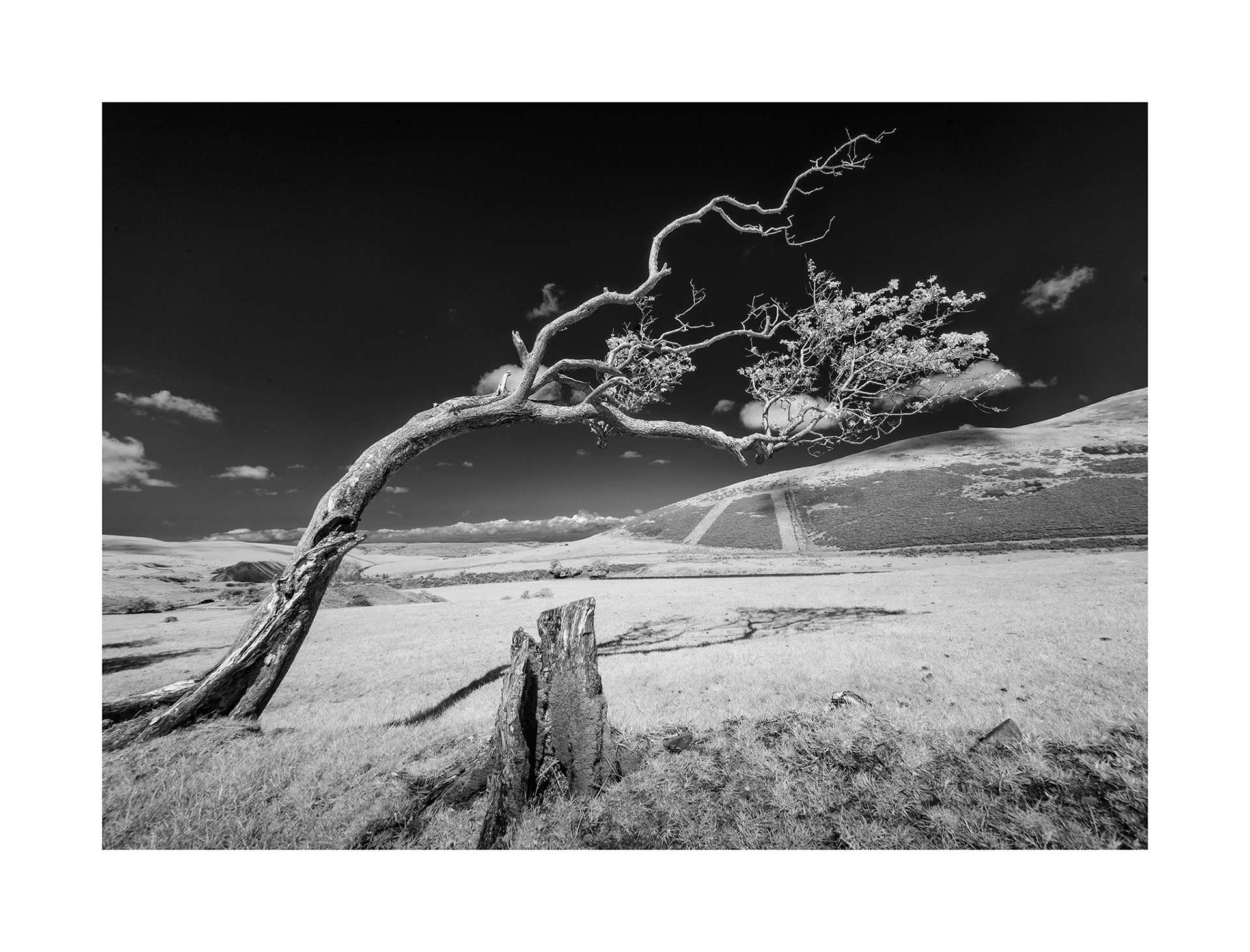 The last way to 'create' an infrared image is via processing a 'normal' image to look like infrared. This has the advantage of using your standard equipment and if you have photoshop or similar no cost to process the image. The downsides are that they will never look exactly like a true infrared image.
There is another form of infrared image which people refer to as false colour infrared. The image straight from the camera already has some strong colour casts to them which the author then adjusts using colour chanels to add 'false colour' to the image. These can be interesting and effective although this is not something I particularly like & have not experimented with. 
This false colour image below is by thelightweightphotographer.com Robin Whalley
So you may have noticed how shooting in infrared affects the image, 
           Once converted to B&W it makes bright green foliage appear white, blue skies appear very dark or black, clouds remain white, buildings tend to retain the balck and white shades but can look really good with contrasting white plants such as ivy growing up them. 
You can find good examples of infrared phorography on facebook in groups such as the 'infrared monochrome photography group' page managed by the very experienced IR photographer Tony Winfield who has written books & has his own fine art website on the subject. There are also good groups within Flikr where the subjects people shoot in infrared never cease to amaze me.
So what makes a good IR image. Well like any other photograph all the usual 'rules' apply, composition, light, leading lines etc. With B&W infrared images which is what I am talking about in this blog I would say the main thing apart from all the usual aspects that makes a good IR image is contrast, global and local. Deep blacks and bright (not blown out) highlights.
Of course IR images are not restriceted to landscapes, I have shot macro, people animals. I was lucky enough to be storm chasing across America in 2019, many cloudless skies and harsh sunny days make for an excellent place to use IR photography. This image is a 'gas station' on the edge of a town. There are scenes like this everywhere.
  So if you like producing B&W photography, have a go at IR. Try processing an image you have already taken using some IR images from Flikr or Facebook as a reference point. Invest in an IR filter for a relatively inexpensive way of producing IR images. If you don't have a 'spare' cameras, there are people who sell converted  or 2nd hand IR cameras on ebay. A quick look this morning showed several under £100 and many under £200. Companies like ACS sell converted 2nd cameras which come with a guarantee.

So think about infrared monochrome photography as an alternative in the summer when the sun is spliting the trees and maybe you have lost some motivation.
Until next time, enjoy your photography